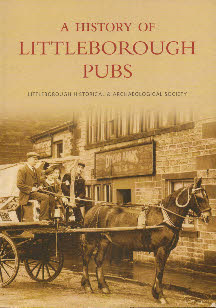 The Caldermoor has also closed now being a beauty establishment. However, an excellent small bar called The Hare on the Hill has recently opened on the site.
There is also the Lake Lounge on lake bank at Hollingworth Lake. Two other new ventures opened to serve Littleborough residents including Toppo's Wine Bar and 409 Littleborough (now closed). The New Inn became a restaurants called the Green Door. The Rake has become a Tapas Restaurant but retains its bar. Like the Moorcock it also has guest accommodation.
The King William IV Inn at the top of Shore was built circa 180 to 1835. It's history of late has been difficult but hopefully it will be open to celebrate its 200 years in existence. A little more has been found about two long lost demolished Inns. The Mermaid in Hollingworth used to carry a datestone showing 1777 whilst the Royal Oak Inn at 3 Lane Ends (junction of Milnrow Road with Smithy Bridge Road) had a datestone of 1788 with the letters TIR.
The Pub Book is available from George Kelsall's bookshop in Littleborough Square, the Coach House and from the History Centre at a Special price of £5.00.