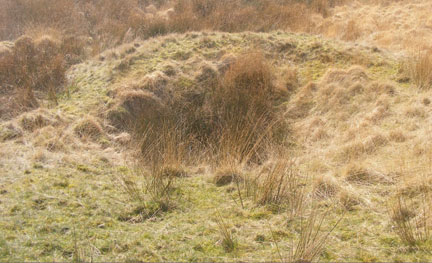 Pictured (left) is one of the Bellpits adjacent to the bridleway.
Pictured (right) is a diagram showing how the mines were worked. Often the spoil from one Bellpit was thrown into a nearby abandoned shaft.
Coke Ovens
On the flat green area in front of the farm (pictured left) were located a number of Coke Ovens but other than traces of a level brick surface, nothing now remains.
Hollingworth Colliery or Syke Lane Colliery
At the top of the lane on the left is Hollingworth Fold Farm which is where the colliery was largely located with capped mineshaft on-site. The mine was recording as being worked by John Taylor & Co between 1871 and 1881 but may have been worked at an earlier date. The miners struck for more pay in 1874 and there was a fatal accident in 1877. On 17th December 1881 the Rates Bill owing by John Taylor was reduced from £120 to £86 due to the mine not being worked. When the contents of the mine were being Auctioned in 1882 it had 3 sets of headgear, 8 steam engines, 3 boilers, horses, 150 coal trucks and Coke Ovens.
Brearley Colliery (including Brearley Farm Colliery)
This mine consisted of at least 2 shafts and 1 or more Adits (Breast Heights). There was a shaft located just south east of the farm across the Canal Feeder Drain (shaft now capped) as well as one shaft (now also capped) in the valley below west of the farm's access road. The Adits (Breast Heights) were located closer to and east of the access road to the farm. There may well have been a shaft at this location. The earliest date available for the mine was in 1854 when worked by Henry Brearley. The mines were worked between 1876 and 1883 by Messrs Stott and Oldham. The 2 foot mine was abandoned in 1896. The Mountain Mine (seam) which had closed earlier in 1886 was reopened and worked by Joseph Brearley between 1893 and 1896 when the mine was abandoned.
Schofield, Schofield Hall Colliery or Boggart Colliery
The Coal Authority Map indicates some 3 Adits in the valley below and to the north of Schofield Hall naming them as Boggart Colliery. However, other sources indicate Schofield Colliery. Whichever, earliest mention of the mine was in 1848 when it was worked by J R Whittle. The mine mine had different operators who worked the Foot Mine (or seam) abandoned in 1888 and 40 yds and Lower Foot Mine(seam) later abandoned in 1913. In 1896 when 2 men working underground, royalties were paid to Simon Dearden of Handle Hall.
Near to the mine were 4 Coke Ovens connected by a tramway. The ovens are pictured below with the mine out the picture to the left.