Littleborough Co-operative Society in the 20th Century
Golden Jubilee celebrated its Golden Jubilee with a "Soiree and Jubilee Celebration" on Nov 17th 1900. Tickets were 1 shilling each for Tea and Concert and 6 pence for the Concert only. On that day the shops closed early at 2:30 pm instead of 7:00 pm by then Annual sales had grown to £44,000.
The fountain in Hare Hill Park marks the Golden Jubilee Celebrations and was donated by the Littleborough Co-operative Society to Littleborough Urban District Council at a cost of £170 and completed by 1903
1901 - Coal bagging
1902 - Co-op issued metallic checks (a form of currency related to Divi or Dividend)
1904 - Took over the failing Dearnley and Featherstall Society
Started in a few rented rooms in Manchester with a staff of 2 men and a boy
In 1906 the 400 seat Co-operative Hall on Barehill street was opened at a cost £775 7s 6d. Popular local venue, an from 1923:- "The Terpsichorean Trio will hold a Select Dance in the Co-operative Hall, Bare Hill St Littleborough on Tuesday Oct 23 1923 7 to 11.
Music by Haigh's Orchestra, efficient MC in attendance. Admission 2/6. The dances included Waltz, Valeta, Fox Trott, Balloon Dance"
In 1910 an exhibition of Co-operative Products was held in the Kings Hall to celebrate its Diamond Jubilee.
In 1910 Sales had been steadily increasing for 13 years and for 1910 were £75,000 with a membership of 2,169.
The auditors of the time reported that "It is our privilege to audit the accounts of a large number of Co-operative Societies in the north of England every year, but in no single case is such excellent progress being shown as at Littleborough"
Central Co-operative Hall (pictured left)
1905 Durn branch Opened
(pictured right)
1912 Centre Vale Shop opened (pictured below)
1913 Summit Branch @ 78 Todmorden Rd Opened (located left of the shop pictured above)
1913 Central Premises enlarged - Tailoring Dept.
Colonial Meat Shop, Boot Department (pictured)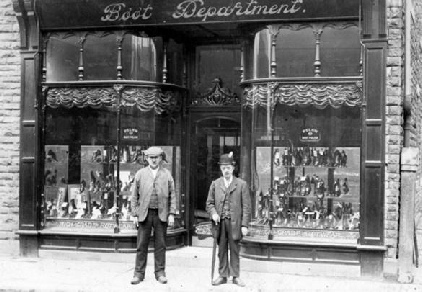 1904 - Fire in the Cloggers Shop above the Caldermoor Store, Cloggers shop subsequently re-sited in adjacent cottage
1906 - Bakery, Staples and Central Hall opened.
1915 - Dairy Department opened in Victoria St, Green Fruit Department opened
1915 - Built a garage, acquired first motor vehicle
1916 - Confectionery Department, Millinery department, hats made on the premises, Tea-room moved from hall to 60 seat café on Hare Hill Road
1918 - Fish and Game Department
1920 - opened a Paint Dept
1923 - Grocery Warehouse transferred from Industry St to Peel St
Photographed in 1960s/70s by L Priestley
Littleborough Co-operative during WW1 (1) enacted on 3rd October 1914 various conditions for their staff called up or enlisting for war service except for those who obtained a commission other than by promotion
Places to be kept open for all

Full Pay (Less Government allowance) during absence on duty for Married Men to be paid to the wife

Special arrangements made for single men who have relatives entirely dependent upon them

These conditions to apply for voluntary services and should the Government decide on Compulsory training later, the offer will not apply to those affected by such Compulsion.
That in communicating this decision it pointed out that as the Society was being directly affected by the war the remaining employees were expected to endeavour that the Society's business doesn't unduly suffer from colleagues on National Duty
Eight members of the Littleborough Co-operative Society lost their lives during the 1st World War